Swagbucks: Legit or Scam?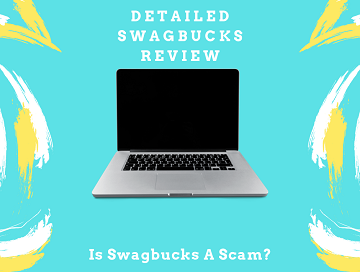 When we think about earning some extra money our thoughts inevitably fumbling towards getting another job or at least working somewhere half-time. And after realizing that, you start sadly dreaming about the opportunity to get income from something that you do in free time. It would be really wonderful if you could earn some extra buck while watching videos on YouTube or simply scrolling down the Google search page. But, in the end, you, of course, conclude that that's impossible. But is it really impossible? Actually, there is a platform where you can earn money by engaging in surveys, playing games or doing online shopping. The name of this platform is Swagbucks.
Of course, taking survey or watching videos on Swagbucks won't make you a millionaire, but you are guaranteed to earn some extra money. Seems quite suggestive? Yes. But then you start having doubts and we can see where it's coming from. Whenever you hear that someone or something offers you some money, left alone fortune, for basically doing nothing you start smelling that something fishy is going on there. There might be some swindlers involved in it. In other words, you need to make sure is Swagbucks safe, as no one wants to become a victim of a fraud. And we are here to help you with our Swagbucks review. If you want to check out is Swagbucks a scam or not – continue reading.
What is Swagbucks?
Before figuring out is Swagbucks legit, there is one question that needs to be answered. What is Swagbucks? Yes, we've explained the platform in a nutshell, but that's not enough for you to make up your mind, so let's dig out a history of it a little bit.
Swagbucks was launched in 2008 by Prodege – a provider of online digital services – that two years prior introduced its first invention, a private label search engine that allowed charity organizations to raise funds by simply having supporters of this or that charity search online. In 2007 Prodege presented their second product, through which celebrities could engage their fans by offering 'swag' merchandise. And one year later Prodege have presented their third product – Swagbucks – loyalty-reward platform which introduced swag bucks as a new digital currency. And the members of the platform can earn and redeem those swag bucks in variety of ways. Basically, what you do is taking some survey in order to earn swag bucks and then go shopping online. Where do you shop? Well, Swagbucks can be exchanged for gift cards in Amazon, Walmart, Target, etc. Seems exiting? Well, don't raise your expectations that high, as the average cost of swag buck is around one cent. But, like with all digital currencies, the value changes with time and depending on the gift card you want to exchange it for.
Swagbucks is available as a website and as an app. You can download the Swagbucks app from Google Play and App Store. The app allows you to do the same things that you can do on the website version – check your balance, engage in polls, compete for special offers, and redeem your swag bucks.
Is Swagbucks Scam or Not?
Now it's time to check out is Swagbucks scam or a legit platform? The answer is much simpler than you might have thought. Swagbucks is legit! So, why there are so many doubts surround the platform? Well, let's be honest, it is quite suspicious that the platform is paying you for doing nothing. But are you really doing nothing? The thing is that the platform is that it has some partners and there are some third parties involved who would like to know the opinion of online users on different topics. That's the point of Swagbucks. That's why you are earning money by taking certain surveys or watching and commenting certain videos. There are company's out there that are interested in your opinion and they are willing to pay you for it. Of course, you can leave your opinion in some long post on Facebook, but let's be honest, it is way more pleasant to earn money for your opinion.
Your opinion is not the only way you can earn swag bucks. You can also do it through online shopping. You are going to get cash back on every dollar you spend in your favourite retailer store. How to do that? You simply launch the site of the retailer through the Swagbucks' online portal. If you are fearing that you going to forget to launch the site through the online portal? There is another option, which will make everything much easier. You can add Swagbucks browser extensions, and earn a cash back whenever you make a purchase something from your favourite retailer store.
What retailer stores get from that? Why they are willing to provide you with cash back in a range from 5% to 11% of your purchase? Well, again, there is nothing suspicious about that. Thanks to your shopping through Swagbucks they learn which products are the most popular, at least among the online users. There is another option to earn on Swagbucks – referring a friend. If you refer a friend, you get more than 300 swag bucks, basically more than you can get from the cash backs or from taking surveys. So, you may think about bringing more than one friend. Think that four friends will earn you 1200 swag bucks.
Swagbucks Reviews
While the above-mentioned information may seem strange a bit, but it proves that the platform is indeed legit. But we know that you can still have doubts about using the platform even after learning everything above-mentioned. Thus, we are going to provide you with information that you can get yourself if you google Swagbucks reviews. If you check Trustpilot, you will see that Swagbucks has a rating of 4,5 stars out of 5. The site's verdict is that Swagbucks is an excellent platform. The platform has almost 15,000 reviews with 63% of reviewers called the platform "excellent", 20% - "great", with 10% of reviewers calling it average. There are also 3% of reviewers who called the platform bad. But you can check the negative reviews to see that mostly people complain that they didn't earn anything while spending 30 minutes on the site, which can happen, and others complaining that they've earned only $5 while spending the above-mentioned 30 minutes on the site. But, let's be honest, we've warned you that you can get an extra buck while using Swagbucks, but no one said that you can retire sooner becoming a member of the platform.