Everything You Need to Know About Nigerian Dating Scam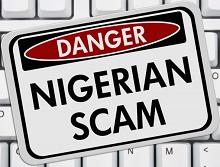 With the rapid evolution of the Internet, the risks of being involved in Nigerian dating scams are increased. Here and there you can find a big number of Nigerian dating scam stories, some of them are funny, another one is not. Unfortunately, scammers don't neglect any ways to get money. There are no spheres of life that cannot be used by them. People who just start their searching on the Internet belong to the most vulnerable category as well as those who believe in miracles and looking for their soulmates. Everybody who decides to register on the dating site should be very careful because, on the Internet, there are many Nigerian scam dating sites that are not tried-and-true in comparison to the romancecompass dating site.
Online dating simplifies the process of searching for a partner, it provides infinite possibilities when you have the list of required characteristics of a person with whom you are going to live the whole life. These possibilities are used by marriage swindlers of all the kinds, they know how to manipulate the emotions and find the weak spots. The worldwide experience has shown that women swallow the bait of scammers more often because of their emotional nature, they believe and hope to meet their prince charming and get the happily ever after. The following story is yet another proof of innocent people's gullibility and crooked Nigerian online dating scams.
A live example of the Nigerian dating site scams
One day, a beautiful girl, let's call her Nana, met a blond American officer, Calvin MacLaine, who served in Afghanistan. They had started corresponding on one of the dating sites, and the officer confessed his love to Nana several days later and made a proposal to become his wife. He said that he had met an incredible woman and that he didn't want to waste time, especially taking into account the specific nature of his work. Nana's heart beat for him. Was he the prince that every girl dreams about? He looked so attractive and masculine in these Nigerian dating scam photos. Nana agreed without thinking. Life is too short to put it on a waiting list.
Calvin was so happy, he called his beloved so gently and asked her to take care of herself. Nana's felt dizzy with happiness. When Calvin wrote that his contract was coming to an end, he returned to the United States, and then he would come to her, it took her breath away.
Moreover, Calvin said that he would transfer a significant amount of money in dollars to her for the purchase of their common cozy house. What bright dreams arose in the imagination of the girl! Then Calvin wrote suddenly that he couldn't transfer money through the bank since hostilities continued in Afghanistan, but he planned to use the services of a special diplomatic mission that could send the parcels directly to the addressee's hands. Then the officer said that the package was on the way, but the diplomat was going to her country through Iran.
Suddenly, Calvin sent a desperate message that the parcel had been blocked at the Tehran airport and since it was addressed to Nana, the girl should pay five thousand dollars for customs clearance. Calvin begged, "Help me! Otherwise, we will lose everything." The girl was depressed, she sat at the computer, thoughtlessly moving from one site to another, and suddenly she saw a column called "Do not believe American officers." When Nana read the correspondence of women of many nationalities, her hair stood on end. It turned out that she had corresponded with a scammer who had pretended to be an American officer in order to get money from a trustful woman in love.
Everybody should be very careful and not so naive
Nigerian letters are a kind of fraud that has become more developed with the advent of spam. It is called so because the letters were especially prevalent in Nigeria, and even before the Internet, they were distributed by regular mail, beginning in the mid-1980s.
Nigeria has a sad reputation as one of the most corrupt countries in the world. In terms of income from foreign exchange transactions, the scam in Nigeria takes currently the fourth place in the world. With the advent of the Internet, "Nigerian letters" became a common concept.
Many women from all over the world have suffered from Nigerian dating scam. The "Nigerian" system has spread throughout the world. Scammers used the names not only of officers but also generals and admirals of American, British and French armies. The "love" letters were signed even by Joseph Dunford, the chairman of the Joint Chiefs of Staffs of the Pentagon. Dunford has apologized through social networks to women for the scam and assured with American gallantry that he is in love with the whole beautiful half of humanity. The fact is that lawyers, bank employees, psychologists and even diplomats are involved in the Nigerian scam. Therefore, women should be extremely careful.
In the US, there is even a special state program to combat Nigerian scam, within which the work of various services and bodies is coordinated. Many dating sites have created some techniques to combat different kinds of scam, however, it is not the easiest task. For example, romancecompass scams are eliminated in the most widespread cases of dating scams. If you don't want to spend time on studying the whole site, look through romancecompass review, it can help you.
A little bit of the statistical information
Spammers try to find a careful approach to the choice of the victim. They study photos and posts of potential victims in social networks and on the dating sites, searching for the most vulnerable. According to researchers, most often, victims are divorced and single women. In the correspondence, scammers behave very aggressively, they do not let the victim come to their senses and understand what is happening.
In 2015, the FBI received about 30,000 complaints against spammer-extortionists. 7000 complaints against the romantic scam were received in 2016, and the total damage to the victims of scammers was $ 59 million. Each year, Nigerian spammers manage to get from $ 100 million to $ 1 billion (according to various estimates.) Fake grooms in military uniforms earn nearly $ 82 million annually.
How can you protect yourself?
Despite all the methods of dating sites to combat the online dating scams, only you can protect yourself completely. Remember the following.
If the "chance" looks too good to be true, it is most likely a scam.
Do not respond to emails asking for personal or bank information.
Beware of persons who appear to be foreigners or foreign government officials.
Be careful when dealing with people outside your country.
Be cautious when you are asked to help place large amounts of money in overseas bank accounts.
Do not believe the promises of a large sum of money for your business.
Carefully check the profile information.