How to Avoid Russian/Ukrainian Dating Scam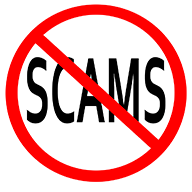 I cannot say that each and every connection with a foreigner online is a dating scam. However, better be safe than sorry. Therefore, it is essential to know how to detect online dating scams at their early stage not to be hurt and robbed. There are some tips prepared based on real stories for those who enjoy online dating and want to know how to avoid scams.
Spot internet dating scams before it gets worse.
She is too beautiful to be true.
Guys, this is just something you need to be aware of. It seems like a great compliment for a guy if he gets a love letter from a girl who looks like a top model. Being happy is totally natural in this case. However, you need to keep your mind cold if you don't want to become another victim of Russian dating scams. Russian girls are beautiful but they are not desperate. It is unlikely for women in general to write a love letter for someone they are interested in. It is a common thing for scammers to use a model's photo to create a fake profile and rob you.
Love at first sight.
Who does not want to be loved at first sight? This is a perfect complement for every girl who is looking for love online. While men lose their mind when they see a beautiful girl is attracted, ladies are fond of men who fall in love and seem attached at the first sight. In other words, they play on emotions. Don't lose your mind right after you see him using phrases like "I'm in love with you" or "I want to marry you"… Men can hardly say such things face to face to someone they are dating for a few months. What are the chances of someone truly falling in love with you online and telling you about it at the early stage of your relationship? I don't want to say that it is impossible to find someone who is crazy about you even though you have not met each other for real yet. There are people you are just perfect for each other and realize that from the very begging. However, in most cases, such behavior may turn into a scam.
Stay out of emergencies
Making things go fast is another thing popular among scammers. Not all scams on dating sites require patience and months before robbing the victim. Some frauds make things go fast so that they don't spend too much time on you and can move to another possible victim. Besides, emergencies require quick decisions. This gives you almost no time to think properly. You cannot help but act on emotions. Thus, if you are a good and sympathetic person, be alert each time an emergency pops up. It may be life and death questions. If you deal with a dating scam at some point you will be asked to help save her relative's life by transferring a reasonable amount of money for a surgery. This is one of the most popular requests among frauds. Thus, if you are dating a perfect Ukrainian girl for example and she faces a similar emergency, make sure this is not another Ukrainian dating scam.
Perfect timing
Be alert each time you see your relationship is developing too fast. This is not only about scammers giving you no time to think properly… The thing is that scams are the way people earn their money. The more scams, the more money. Therefore, they obviously don't want to spend too much time on you if the purpose is to get $1000 from your wallet. Besides, if they feel you are not on the trigger yet, they will easily find another guy to rob.
EXTRA CAUTION HERE!
The biggest international dating scam is based on offering you big money for something small in return. Professional scammers steal more than $10,000 from one person on average. They may start with small things...
If you are a single girl and looking for love online, don't lose your mind when a successful and caring foreigner gets interested in you. It happens that scammers pretend to be romantic and generous guys. They may write you they send you a jewelry or money, for example. But what happens next is that someone calls and says you need to pay some taxes to get you precious box. Of course, you won't get any box. Furthermore, your beloved gentleman will disappear as soon as you pay the above-mentioned tax. Avoiding scams is easy if you stay reasonable and keep your mind cool whatever happens.
Real girls and guys online neither offer nor ask for money. Keep that in mind.
Helpful tools to detect scammers.
There is nothing bad about being extra careful nowadays. Check thing each time you feel insecure. You may even check romancecompass scams exist. What you need is Tineye. This tool will show you the real identity of a person from the photo you upload there. Try it!
Another key thing, which will assure you that there are no romancecompass scams, are the users being upfront and honest. This is actually the best and the easiest way to detect scammers. The more you know about your online girl the more confident you are about her. Don't hesitate to ask for some additional information. It won't spoil your relationships if there is a true girl behind them.