What Dating Scammers Say to Trick You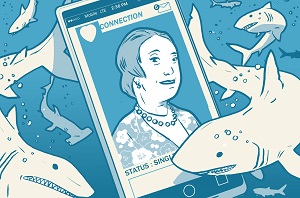 Sometimes in the pursuit of happiness we lose head. Countless sites, public pages, forums are teeming with stories of women and men caught in a cloud of marital deception. Many post photos, names and passport details of scammers, but their number still doesn't grow smaller.
It's especially difficult to keep sober mind when the groom turns out to be (or calls himself) a foreigner. Life shows that our women have a special passion for foreign fiancés that rankles till the present day.
After all, one is inclined to believe that a handsome man who has come up to your call from the depths of the Web is exactly who he is: a rich, lonely, and, in addition to this, citizen of a civilized European country. And you don't want to think about the fact that he may well be your neighbor with beer belly and chronic emptiness in his pocket! Dreaming of a foreign fairy tale is much more pleasant.
People who are known as "dating scammers" try to earn money by manipulating the feelings of people who want to find a soul mate via the Internet. How do scammers act on dating sites?
Very often such scammers can be found by registering on foreign dating sites. As a rule, their targets are well-heeled people who want to meet the representatives of the opposite sex. Among the scammers can be both men and women.
First, they start a conversation, keep themselves fairly gallant, make an impression of the person you've been waiting for all your life. And only then, when it would seem that the relations are becoming serious (but this is only a travesty), they start money chase.
Basic fraud schemes of dating site scammers
Here are the ways a scammer will try to get your money and some examples of online dating scam.
"We really need money for the treatment of a relative". This scheme is used by the scammer when he realizes that you believe in his love and trust him completely. Therefore, a man needs to worn himself into your confidence, talk about how beautiful you and your children are.
It seems that no woman in her right mind will send money to a man she has never seen in her life. Everyone thinks so, until they fall into the hands of experienced fraudsters. These guys are well aware of the typical psychological wounds of women, they know how to grope and use them.
If you refuse to provide financial assistance, the scammer will disappear. You drop out of his list of promising simpletons and he shifts his attention to others. Remember that the scammer works with several women at once and he won't waste time on you.
"I'm in trouble". A scammer writes that he is in a pickle, and asks you to help him with money. If you refuse, most likely the man will first ask you very much, then start bargaining (to reduce the amount of money), and in the end completely disappear.
"Send me a text message to a short number." A man says that now he is in extreme conditions, for example in the mountains, and can communicate only through SMS. If you send an SMS to this short number, then an unusually large amount will be charged off your account.
"Send money for a ticket." A fraudster says he really wants to visit you, but he can't afford it financially. He asks for a money transfer, which he will spend to buy tickets to your city.
Suggest him this option: he tells you his name and surname (you can ask for a passport photo), and you buy a ticket on the airline's website. If a man refuses, then most likely he deceives you.
Deception with duty. A man asks your address and full name to "send a gift." You only have to pay the customs duty - transfer money to a settlement account, which he will tell you. Often it's a bank account or digital wallet.
Of course, he can actually send a gift. The fact of fraud indicates the request to transfer money to a certain account. There is one more psychological nuance. You may think that the amount of duty is nonsense, you can pay it. But fraudsters are happy even with such small sums.
To pay the state fee, you must receive an official notification from the customs broker. To be sure that you are not being deceived, contact the customs office.
The purpose of another common scam on dating sites is as follows. After dating you are asked for a link to your profile in the social network. After adding to friends, the conversation continues and becomes more intimate and personal. Later, the scammer sends a link to the site where there are copies of your conversations, photos and phone number with the statement that you are a fraudster. To remove this information from the site, you will be asked to pay a certain amount of money.
How not to fall for the tricks of online dating scammers
Precautions can significantly reduce the risk of fraud on social networks. Here's what the FBI and other experts offer.
1. Conduct your own investigation. If you are in an online relationship, don't rush. Since profiles in social networks can be fake, perform an online search on the photo and profile of your loved one to see if he has appeared somewhere else. Be careful if someone asks you to chat outside Facebook or a dating site to talk offline.
2. Be skeptical about people you've never met. If someone asks for money and talks about his love for you before you meet this person, consider that this is a fraud. Other common concerns: a person who can't meet you because he is allegedly working abroad, and someone who is trying to isolate you from your friends and family, or keep your online relationship in a secret.
3. Don't send money to anyone you don't know personally. Money sent abroad is almost impossible to return, and insurances don't cover such cases. Don't believe the swindler's promises about the return of money. In addition, don't provide anyone access to your bank account information so that a person can "store" money there. Be careful with someone who asks you to send parcels on his behalf: you may be involved in a criminal operation.
4. Don't communicate with the scammer. Once you understand that you are dealing with a scam, cut off all contacts. Disrupt this person in email and social networks. Ask that his parcels are not delivered to your home or to work. Then the swindler will soon shift to another victim and leave you alone.
5. Don't try to take revenge. Although there may be such a temptation, understand that you are dealing with a professional criminal syndicate. Some victims tried to mock their tormentors and threatened them. In addition, keep in mind that the "detectives" who propose to expose the personality of your former love, usually themselves are part of financial fraud. Better inform the police or the FBI.
6. Use proven sites. One way to stay away from scammers is to register on dating sites with a proven track record. One of such sites is romancecompss.com. Here you can get acquainted and communicate with different people quite safely and most importantly - without any scam. Romancecompass dating site has already helped many people to find love and live together happily ever after.