3 Romance Scam Stories that Will Shock You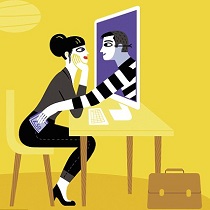 With the development of the Internet, the risks of being involved in dating site scams are increased. The more the Web develops, the bigger number of online dating scam stories you can read. That happens because the Internet becomes available to more and more people who, due to small experience of communication on the Web, believe in everything and fall into a trap of scammers on dating sites.
Dating sites are constantly being targeted by all kinds of scammers, cashing in on gullible users. Online-dating gives infinite possibilities for looking for your soulmate and it becomes a good background for the Internet dating scam stories because scammers and marriage swindlers use that to the fullest. They manipulate the feelings cashing in on men and women. The latter swallow the bait of scammers much more often.
This is quite understandable, emotional side prevails over rational one in women, and it is difficult to destroy the hope of meeting "her one and only" even with the most stringent warnings. However, we will once again try to warn you against romancecompass scams in order for you not to become one of the characters of the romance scams stories.
The first story
This couple met on a dating site. In Andrew's profile it was said that he is a doctor who loves animals and wants to find his soulmate for creating a happy family. There were many photos, information about his hobbies, preferences, worldviews, etc.
Lisa and Andrew started communicating on the site, but Andrew said that he had not much time to talk there due to the tight schedule in the hospital and asked to give him her phone number. They started talking via phone. When Andrew worked in the hospital and talked from the staff room, his voice was calm, mellow and very pleasant. He told about mesmerizing things like he got used to going to church and asked the God to meet a good woman because his wife had died two years ago, her death had been hard and he had been with her all the time until the end. Andrew continued to suffer and hoped to meet his soul mate. They discussed different things, the man told how happy he was to meet Lisa and how he liked her voice, such a light flirting with a drop of erotic. One day Andrew asked Lisa to come to him in a month when he would have a vacation to spend all the time together. In a week or so, he said that his mother suffered a heart attack and he needed a big amount of money. Andrew asked her to send him some money because it was necessary to buy some expensive medicine abroad. Lisa sent money and he disappeared.
This type of online dating scams happens quite frequently, however, some women cannot believe that they deal with dating scammers.
The second story
Katya got a message from George on a popular dating site. He wrote in his letter that he lived in the USA, had a small business, divorced and had a grown-up daughter who lived in Italy, his parents were from Russia so he was going to visit them in April. Katya got her guard down because they had been talking already for several months and there wasn't anything suspicious and nothing looked like Russian dating scams. And only then the dating scammer began an active phase.
George said that he was going to a friend's wedding, but he did not know what to give the bride. He asked the trustful girl for advice, and she chose a gift that she liked most, it was a bracelet with precious stones. After the wedding, he asked Katya for her actual address and said that he wanted to make her a pleasant gift, which did not oblige her to anything, it was the same bracelet.
Soon, Katya received a message from the courier, in which it was reported that she had received a parcel, evaluated at 1500 $ and that it was necessary to pay courier services in the amount of 200 $. The message was also replicated at e-mail. Unfortunately, Katya paid for it. Obviously, she did not receive any parcel, and both the courier service and George stopped replying to her messages.
You should be extremely careful and cautious. The scheme of scams on dating sites can really be thought out, however, there are always some little things that should alert you. And if there are some obvious signs or even some requests for money, inform the admin about romancecompass scam.
The third story
Simon and Mila got acquainted on an online dating site, it was pleasant communication just from the first message. They found out so many common things, especially they liked the same music and places. After more than several months of communication, they decided that it was high time to meet and visit some new place together. Simon offered to go to the new fashionable sushi restaurant and Mila agreed with pleasure. They met in the park and took a little walk before the dinner, discussing some interesting things.
At first, everything was fine: delicious food, wine, pleasant company and dreams about the common future. However, it was a little surprise that Simon made the order without asking Mila at all, but she thought that they knew each other quite well and he knew her taste. Besides, she took it for another proof of his self-confidence and she liked that. They had a great time until they got the bill.
Before they looked at it, Simon offered to guess what amount was given in the bill. The one who would be further from the truth would pay the common bill. Of course, Mila did not guess because she had not seen the prices on the menu. She had said 130$ and Simon said 200$. Mila paid 270$.
When they left the restaurant, he took a taxi and she took the subway as if they did not know each other at all. Simon stopped writing her and deleted her from the contacts.
Be careful
All the stories are simultaneously different and similar at the same time – everyone wants to get your money. Every scammer has his own goal and means of achieving it. You should always remember that their stories will never end. They will change, will adapt to what is happening in the world, but they will. The similar stories can happen to the men because some women are quite insidious and don't differ from the male scammers.