The Most Common Online Scams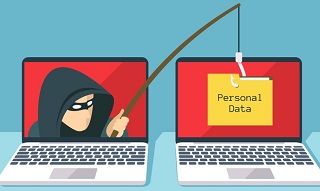 The Internet is full of cheating. It has long been not a secret to anyone. The most common scam is getting people's money out. Scammers here are often building a real business, which is quite difficult to accept as a lie. Every day, there appear more and more the possible options for the development of events. Some particularly trustful users don't even notice how they are being cheated. Therefore, today we will try to figure out most common online scams, how to protect oneself and how to learn to distinguish lie from reality. If you study these issues well, no one can fool you. Let's get started as soon as possible!
Phishing email scams
You can be asked for your username and password from your social networks that are needed to activate registration or enter your ID from an e-wallet on any internet resource. But always remember that your payment system ID is the only way to get to your money. Don't enter your data on unverified sites because you may lose money or social network pages, etc.
The Nigerian letters scam
Such a letter can come to your email. Of course, everything is official. You will be asked to respond to the letter if it is you. A new letter will come to you, the correspondence will be tied up. In a few letters, you will be informed that the inheritance is very large and you need to send some money for its registration as soon as possible, then for getting a visa, then for something else, and at the end, a sender will just disappear with your money.
Bank loan or credit card scam
You will receive an email similar to the following: the system crashed and you are asked to fill out a form where you need to enter all your personal data and don't forget to enter your card number with a pin code or ID with a password. You indicated, sent, and said goodbye to your money. Not a single bank, not a single payment system, will send you such a request. So, please contact your bank by phone or go to the official website to clarify the situation.
Lottery scam
When navigating sites, you see a message on the left or right side of the screen: "You won the lottery", "Your IP address was selected by a computer and you became the owner of something", you will be asked to fill out a form. You will have to write a comment about your feelings, leave a phone number to which you will receive a message where you have to confirm your identity. And if you respond and answer, you will start a long correspondence until you run out of money on the balance.
Dating scams
In large numbers on dating sites, there are scammers who use mostly female profiles and "divorcing" women for small gifts or amounts of money under the pretext that "there is nothing to eat", "I got sick, but the salary is tomorrow", "my husband left me with a child", and so on. After receiving the desired, either they stop communicating or they don't leave attempts to gradually get as much money as possible, maintaining own interest. The key sign of such a scam is that a person will never make direct contact by phone or Skype, will avoid questions about oneself and your requests for new photos. That is why you should use the best dating sites. And Romancecompass is one of them. Its support works 24/7 and no scammer has a chance to log in there.
Make money fast scams (Economic scams)
"Buy for 50 dollars and earn from 150 dollars every day!" – Who has not seen such a message? It probably was caught eyes of everyone, not exactly with such content, but with something similar. Sometimes you can pay 500 dollars, get 100000 dollars, moreover, such a technique will cost several times cheaper than the final earnings. After you pay and receive this method, you find out that what you just made can be sold to other people and you can earn on this. And the main thing is that everything seems credible as you also believed it.
Fake antivirus software
Let's imagine that you click on the button with an interesting offer on any website and catch the blocking virus. A monitor screen is blocked and you can't do anything with it because it completely covers most of the screen. You will be offered to send an SMS to a number with an exchange for the windows disconnect code, for which money will be withheld from your credit card or mobile and you, most likely, will not receive a code. Therefore, you have no choice. You will have to reinstall the OS. So, use the best antivirus programs. They will warn you about an unreliable website.
Fake shopping websites
Moving through the Internet space, you go to a store with a good design, with a cheap, and most importantly, quality product. You see a really worthy thing at a good price with a mark that it is available literally just a few more hours. You rush to pay for it, everything works out for you, you see the message that your purchased product will pass on to your email at the specified place of residence within 10-15 days. It takes a week, another, third, but, alas, there is no product and never will be. Therefore, you should know that every payment system on the Internet has email addresses of partner stores. Use this database to avoid unpleasant moments.
Bitcoin scams
Investment in Bitcoin is another common way of cryptocurrency fraud. If you decide to invest in a fund, you have to be sure that the company is managed by professionals. In addition, the proposed investment strategy has to be fully described and has sense. But remember that anyone, who guarantees high returns on investments, is lying because there is never 100% confidence in the world of investments.
Job offer scams
Such scams have a large number of options. Here is advice for freelancers: you should work through specialized websites. However, cheaters can be there as well. For example, those, who hold contests for better-paying jobs. So, don't rely on various contests. Perhaps this is cheating.
SMS Scaming (Smshing)
In general, it is very common on the Internet. So, never send SMS to short numbers from your phone because everything works the other way around – a code is sent to you and you enter it on the site.