Is TruthFinder a Scam Site?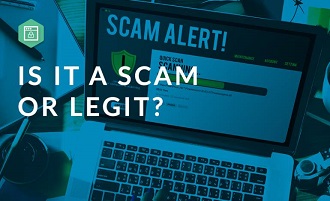 Online dating became a real blessing for the vast majority of internet users. The ability to pick any partner from any country in the world is really quite suggestive. No longer you have to be nervous about asking someone out, while in fear of being rejected. No longer you are limited to your college or work place. Needless to say that you are no longer limited to your city or even country. Just pick up the dating site that offers partners to your preferences. Are you into Slavic girls? Are you into Asian girls? Latin girls? Pick a dating site. Some of them go global, so you can pick anyone from any corner of the globe, without using different sites. All in all, online dating sounds too good to be true. What can possibly go wrong?
The main problem with online dating is online scam. You know when you are in love, you are the most vulnerable person, and you can be easily fooled into giving your money to a con artist. Scammers make online dating a devil-may-care thing. It is extremely painful, when you are robbed, while searching for love. Of course, you can always use RomanceCompass, if you want to avoid scams, but there must be other variants. TruthFinder is a site, where you can find information on any person. But before using TruthFinder you need to figure out whether it's a scam.
What Is TruthFinder?
TruthFinder claims to be one of the America's most trusted background checking services. It can help you to do various things, from reconnecting with your long-lost relatives or friends to checking out the criminal records that your prospective partners. TruthFinder claims to feature data from allover the web, which means that if you want to find out whether the person your chatting with is a con artist or not, you can simply use this site. And according to the information on its site, TruthFinder is quite popular, scoring almost 10 million sessions per month.
Moreover, the site warns its users to think twice before using it, as learning information about your friends, relatives and partners can be actually shocking. ThruthFinder also advises you to make sure that you've entered the information correctly, as looking for Samantha Anderson and finding out about the sexual assault on Samantha Andersson can be quite shocking. But it's not your sister, you've just added an extra 's'. All in all, when you need background information on someone, TruthFinder will provide you with it. But is TruthFinder a scam? And can a website like that be a scam? Let's check out its pros and cons, and costumers' complaints to figure out whether TruthFinder real or scam.
TruthFinder's Pros & Cons
The Pros:
Well, the main thing is that TruthFinder has real police reports, court records, speeding tickets, records on sexual offences, and even mugshots. You can get all the contact information about the person that you want. So, once again, if you are that suspicious and you want to know whether you prospective partner is clean or has any criminal records, you can just enter his or her name in site's search field and get all the available information. And we like doing things on a go, so TurthFinder is available in both mobile and web versions.
The Cons:
If you want to learn the truth about you chat-mate from an international dating service, TurthFinder may turn out to be little to no help, as it collects data only from the United States. So, if your prospective partner is from Europe, Asia, South America and has never crossed the border of the United States, you are most likely to find nothing on him or her on TruthFinder. That can definitely become the major disadvantage, especially if you want to figure out whether the person you are chatting with is real or a dating scam. Well, that's everything what can be found on service. Are there any other cons that can surface upon digging up the customers' complaints? Let's figure it out.
ThruthFinder's Customers' Complaints
The best to figure out whether TurthFinder is a scam website or not, is to read its customers' complaints. When you check out the reviews on TruthFinder everything seems extremely good, considering the fact that most of the reviews are quite flattering. You get the feeling that TruthFinder is exactly what you've been looking for. But turns out that if you have enough patience to scroll down ten to fifteen reviews, you can see actual complaints. Yep, the best reviews are front-loaded, but scrolling down a bit reveals the truth.
First of all, there is no information on the website that you are going to be charged for you search. All in all, it seems that TruthFinder is offering the access to information for free, but customers' major complaints focus on the fact that the so-called free searches are never completed. A lot of people complain that TruthFinder forces its users into paying for research. Some users even claimed that the site sent pending charges to their accounts, although they didn't give the site their credit card information. Other complaints focus on the fact that you can find more useful information on your own. Some people even complained that they tried to check their own information and it turned out to be 90% inaccurate.
Is TruthFinder a Scam Site?
While at first glance TurthFinder seems like a trustworthy website, which promises finding information on anyone you want. But customers' complaints reveal that TurthFinder is a scam. Quite ironic that a website that can be a real help in finding scam on online dating services, turns out to be a scam itself. Tricking people into paying around $30 dollars for inaccurate information is a sure sign of scam. It means that your trying to find useful information equals flushing $30 down the toilet. We would highly recommend not to use the TruthFinder. And if you want to avoid scam in your online dating, you should stick with sites like RomanceCompass. Still, you should always check out customers' complaints as they can always shed the light on real problems that may occur while using a website.