Is the Dosh App a Scam?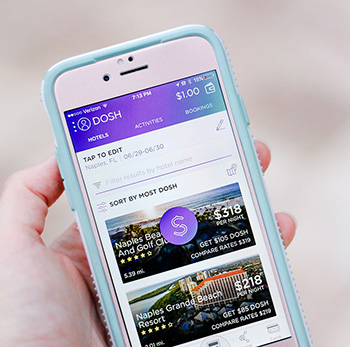 Today we would like to present our own Dosh review. We have divided this review into four sections, and in the first of them, we will find out, what is Dosh? At the end of this review, we will figure out whether or not there is such a thing as Dosh app scam and whether it is safe to use it or not.
What Is Dosh?
The Dosh app was released in late 2017, and it has received quite a lot of popularity and buzz since its launch. But why is that? What is so special about this app, and what does it do?
Well, the short answer is this – it is a cashback app that… well, gives you some cashback every time you make a purchase. Of course, it only works with participating outlets, and you have to use your credit card.
First off, this is probably the only cashback app out there that doesn't require to scan any coupons, insert any promo codes, and you don't have to scan anything while 10 other angry customers are waiting in line. This is probably its main selling point. And it is quite simple, you just download the app, link your credit card, and you are good to go. A portion of the money that you spend on purchasing goods and services from participating outlets immediately goes back to your Dosh wallet. When you reach $25 – you will be able to cash out by using PayPal or Direct Deposit.
How to Make Money with the Dosh?
Well, if you are just going to make purchases and not try to get as much profit out of the Dosh as possible – you will still save some money which can be technically considered as "making money." That being said, let's look into all the different ways you can do so and even a bit more.
The first thing you do is to link your credit card to your Dosh account, and there you have it, you get $5 added to your Dosh wallet. The best part is that you can link other credit cards and get more money.
Now let's talk about all the ways in which you can get your cashback by using the Dosh.
When you make online purchases – you can use Dosh to get some money back. It is especially convenient as you will be able to find all the participating outlets and order their products and services online.
If you are not an avid online shopper, then you can also save money when you make purchases in real life. Let's say that you went out to get some Nike shoes. Congratulations, 4.5% of that purchase goes straight back to your wallet.
There were also some travel options for cashback, but Dosh decided to move away from travel deals.
And here's the best part, there is an affiliate program. You can invite your friends and get rewarded for their use of the Dosh. Once you get registered on the Dosh, you will be able to press the Refer button, you will be able to copy your personal referral code and share it with your friends. Once a user downloads the app and links their credit card, you get $5.
Just think about it, 10 friends that decide to help you and check out the Dosh will grant you $50 for doing absolutely nothing.
Alternatives to Dosh
If you quickly need money, and you have already emptied all the pockets of winter jackets, you can easily earn a few dollars on various sites like the Dosh by following simple steps. If, for whatever reason, the Dosh app doesn't seem to suit your needs, then here are some ways to either save or earn some extra cash by doing something rather simple.
$25 from JOANY
JOANY helps people find and compare plans, search for doctors, and manage complex medical bills. Here you need to answer some questions in the questionnaire. It takes less than 10 minutes and in return, you will receive $ 25.
To participate, you must meet the following requirements:
- purchase health insurance for 2020 through Healthcare.gov, a broker, or buy plans like Oscar or Aetna.
- do not receive health insurance through an employer or school.
- not be a member of Medicaid, Medicare, or VA.
$5 from InboxDollars
InboxDollars basically pays you for watching TV online. You can choose from a variety of shows: from cooking and entertainment to news. Videos are sponsored by brands that pay for views. But right after registration, you get a free $5 just for joining the project.
$10 from Ibotta
Ibotta only pays you for photographing your check. Here's how it works:
- Sign up for Ibotta. You just need to provide a name and email address.
- Review the offers in your area the next time you visit a store, supermarket, restaurant or bar (offers change every week).
- When you have a minimum of $20, request payment via PayPal or Venmo.
$10 from Acorns
Open a micro-investment account at Acorns. As soon as you connect it to a debit or credit card, it rounds your money to dollars and turns coins into a savings and investment account. So you will hardly think that putting off is not easy. You can configure the application yourself so that it does not work with every purchase. For registration, users receive a free $10 to create their first savings.
$5 from Stash
This app is a bit like Acorns. Journalists of The Penny Hoarder will soon merge with Stash, and on this occasion, the company gives readers $5.
$5 from Clink
Like Stash and Acorns, Clink functions as a digital piggy bank. The smallest amount you can invest is $1 per day, which Clink automatically withdraws from your current account. For the application, you need to pay $1 per month, but its developers also offer a bonus of $5 for registration.
$200 from Barclaycard
Try Barclaycard CashForward World Mastercard. You will receive a bonus of $200 dollars if you register and spend $1000 within 90 days. And in fact, this is not so much as it might seem, especially considering the cost of food and other mandatory monthly expenses.
Now let's find out the following, is Dosh a scam?
Is the Dosh Safe? Is Dosh a Scam?
So, let's answer the most important question, is the Dosh app safe? Is there such a thing as a Dosh scam? There have been many fraudulent schemes to be caught online. The two most dangerous areas are banking and online dating. As for the latter, you will never hear of a Romancecompass scam. But are the reports about Dosh just as fake as the reports about Romancecompass scams?
From what we can conclude, from our own experience and from what we've heard from our friends, it is safe to use the Dosh. It has its flaws, it is not perfect, but this is a legitimate way to save money and do it without any unnecessary risks and hustle. Dosh doesn't actually store your credit card information, PayPal does, or at least one of its division called Braintree.