419 Scam: Everything You Need to Know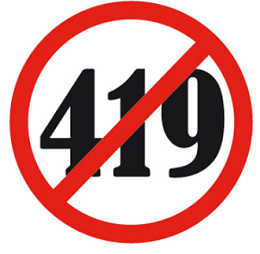 Have you ever received an email requesting assistance in conducting a multi-million cash transaction for a quite large percentage of money? Did the widow of President of Zaire address you with such an offer? Or maybe the daughter of the former president of Liberia? If so, then, with a high degree of likelihood, you are almost deceived by notorious Nigerian scammers.
What is a 419 scam?
Nigerian letters or 419 scam are a fraudulent activity, which has been most developed with the increased popularity of email messages. Letters are called so because this fraud was especially popular in Nigeria even when such letters were sent by post offices. However, Nigerian letters come from other African countries, as well as from cities with Nigerian diasporas. These letters appeared at the end of the XX century.
As a rule, scammers ask for help in interesting multi-million cash transactions, promising large sums for this. If the recipient agreed to participate, a scammer gradually lured out large amounts of money allegedly for the registration of transactions, payment of fees, bribes to officials, and then fines.
Nigerian 419 scam example
How do you know if you get a 419 Nigerian scam? Nigerians have a vivid imagination, so the history in all letters is different, but, nevertheless, it is possible to notice a number of common signs:
1. You received a letter from a foreigner;
2. It is about getting a large amount of money;
3. You can help a foreigner get it for a worthy reward;
If you find such 419 scam emails in your "inbox", then there is no doubt that this is the most legendary Nigerian letter. How does it work? How Nigerians took money from people with an ordinary letter? The scheme is very simple:
1. As soon as you respond to a letter and agree to participate in the proposed scheme, a sender reacts immediately, giving you details (bank accounts, African laws, personal information – photos of children, wives, etc.), which, first, force you to believe him/her more and more, and, secondly, make you confused. Conclusion: you don't want to delve into incomprehensible details for you and begin to trust a "partner".
2. Then there appear new nuances and details (bank commissions, taxes, etc.) that require expenses. An "honest partner" offers to make a deposit 50/50. Conclusion: you give a scammer half of your money.
3. After eliminating all the nuances, it turns out that unexpectedly there is an unforeseen problem that threatens to disrupt the whole operation, which requires immediate resolution and new financial investments. Conclusion: you are on the hook. First, you have already invested something before. Secondly, you have already promised to help a partner, you feel responsible. Thirdly, the problem that usually arises contains heartbreaking details, also pressing on pity.
Here is the example of 419 scam that people receive much often:
"Dear friend! My name is Elemeke Odika. I am a lawyer. I have an important message for you about the death and Mr. Smith, who was my client and a citizen of your country that had the same last name with you. His estate of $13.580 million was left in one of the bank in my country (Togo) as a result of an accident that took his life. If your last name is really Smith, kindly contact me as soon as you receive this message in order to let me know your intention. Please, if you are interested in this transaction, please contact me for more details and how to proceed. With best wishes,
Mr. Elemeke Odika."
419 dating scam
The 419 Internet dating scam is a relatively new form of scam. On dating sites, a letter is supposedly coming from an African woman (or a man, depending on the sex of a victim), which appears to be the crown princess of a small country or heiress of a large fortune. She/he allegedly is in a refugee camp in Somalia, since there is a coup in her/his homeland. A woman/man suggests a victim to marry and inherit a great fortune. And for this, she/he needs money to return to her/his homeland, where the political situation has stabilized.
The essence of the "love" variety lies in the fact that scammers look for victims who are psychologically suitable in their opinion on the dating sites. And then they begin to either make a declaration of love that suddenly flared up or do something else to "spell" a victim. And what person doesn't dream of such love? It is sad to talk about this, but "accidental happy love", as well as money "falling from heaven", doesn't happen in this world. Receiving such a letter, you should report 419 scam to police officials.
Here is one more example of 419 scam that can be received on dating sites:
"Dear Jack, please forgive me for all that inconveniences that I caused you during our communication. I found out that my visa, which my agent made for me in your country, was fraudulent. Now I need to submit it again and my trip to you will be postponed for 4-5 weeks, dear. Don't tell your mom that my trip is delayed. Say that I'll be back at the end of July. Although we never saw each other, I understood what kind of love reigns in your family. I never wanted to hurt you or your mom.
And one more thing: this morning I received a call from Malaysia about the inheritance that my deceased father left me. The inheritance is about 1.450.000 dollars. I have 10 working days for which I have to go there and settle everything since he left me all his financial affairs. Please give me a list of the things you need, which I can bring to you from there. I'll call you from Malaysia tomorrow." – This is the letter that you will never receive on Romancecompass dating site.
419 scam stories
419 email scam became very popular after Facebook and dating services became popular. In 2013, a scammer from Africa lured 5 thousand dollars from a 68-year-old resident of the United Kingdom. He introduced himself as a retired foreign military and began to compliment a woman, promised to marry and take her to America. And then he asked her to transfer money for urgent needs and deleted an account.
In another case, the fake general told the victims that he had sent an expensive gift to them by mail, and later reported that the parcel had been "stuck in customs" in Ghana, and $3800 had to be paid for further delivery.
Recently, a 34-years-old Russian woman went to the police. She reported that in early February she met a US citizen in a social network and he said that he was working on secret CERN projects on the island of Aruba. Over three months of communication, he persuaded the victim to transfer him 4.5 million rubles. The woman took a loan from the bank, sold her apartment, and borrowed money from friends. She was sure that her new lover would marry her and she would move with her children to his country as he promised. As you can understand, after receiving enough money, a scammer just disappeared.
Scammers carefully approach victims. They study photos and posts of potential victims in social networks in search of the most vulnerable one. According to researchers, divorced and single people are most often attacked. In the correspondence, scammers behave very aggressively and don't let victims understand what is happening. But be sure that Romancecompass protects you from scams like this.