Is DealDash Scam or Legit?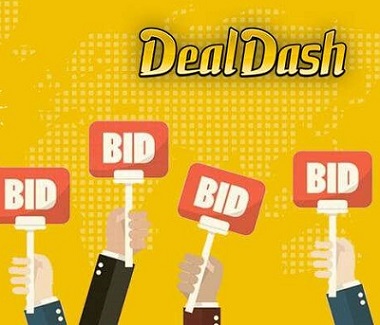 Today no one will get surprised by the number of possibilities the Internet provides us with, including sites for raising and earning money. Not all people profit from them because of the lack of knowledge about how they work. However, today we are going to shed light on DealDash app, a popular bid website. Is it really effective and worth using, or you should not spend time on another money scam? Read below to find out our verdict.
What Is DealDash?
This big online platform is a great example of a bidding site, the one aimed at helping you to save money or win free stuff, for example, merchandise or discount cards. DealDash was founded in 2009 as a penny auction website. It took already existed sites of this sphere as its base and created a platform for people to take part in fair online auctioning transactions. And the company of course introduced some changes to the basic concept of bidding sites. For example, they guaranteed a refund if you do not get the item from the auction or if you did not enjoy the site working algorithm. But instead of getting the money back, clients of the platform could be given their initial number of bids to use them on the site again.
The basic principle of its work means people buy bids to use them in auctions for a vast variety of different goods, for example, home stuff items, cards, gift sets, clothes or decor accessories. The auction starts with placing bids on the item and with every investment of bids the price gets $0.01 higher and the time cut out for the item to get closed also becomes longer by 10 seconds. It uses the algorithm of the auction, so all this is made for other people to take part in fighting for the item. However, not similarly to real-life auctions, you are not able to beat somebody's bid at the last second, everything is fair enough.
Bids can be purchased in packs of the amount multiple of 50 or at retail. Users buy bids for real money to later use them on the DealDash site. The price is not stable and varies according to different factors, so one time you can pay $10 for a pack of 200 bid while the other day it will cost you $0.07 for one bid.
How Does DealDash Work?
As soon as the user purchases bids, they are ready to be used on the site. Bids should be spent on different stuff being auctioned on DealDash. The variety of items can be seen at going to the listing tab, and under each one, you will see the "Bid Now" button. It will directly start an auction as described earlier by adding $0.01 to the initial price and prolonging the time. Apart from bidding items by yourself, you can set the automatic bidding by deciding how many bids to spend on an item and continue with your work. For example, set the "Bid buddy" overnight and hope for the best. It is great not only because it saves up your time, but the system will decide when it is the prime period for auctioning this or that item for you. After winning the item, you will get an additional time that will be converted into bids for free.
However, some things still need to be kept in mind during these affairs. Although you win bids, they still cost you the money you paid for them, so it is worth calculating whether you really save on the item you planned to get. Auctioning can get exciting and take you away sometimes. But all things cost money, remember this. After all, when winning an item, you still have to pay its final price calculated according to the bids, not their value. One of the main advantages of this platform is that you do not have to pay for shipping. The price of the item includes its auctioning value plus bids you spent which can make a great deal.
There is always a backup option that lies in buying the item upon losing the auction straight away. If you decide to purchase goods after the auction is closed, you will get the bids spent on it back.
Special Features and Some More Info
Before we proceed to DealDash scandal stories or give our final verdict, let's take a closer look at some of its most striking characteristics that differ from other platforms of the same kind.
1. Bids can be obtained for free here by advancing your level on the site or winning additional time during the auctions and filling the timer account.
2. DealDash resembles more a community than simple items selling site, it gives you a possibility to earn badges by completing tasks. These include writing reviews, winning the auction, etc. They will bring you additional bids too.
3. The automatic budding system called Bid Buddy is also this particular site's breakthrough. It implies setting the buddy to bid for you and not losing anything. Of course, some hot items are better to be auctioned manually, but the automatic algorithm works no worse and will not allow you to lose some great offers.
4. In case of winning the auction, DealDash allows you to get 50% off the bids spent on the item. You end up saving a lot if you use such promotions, and that is another benefit of the site.
5. Payment methods that the site accepts will be suitable for everyone, no matter which one you are used to applying. And residents of all states except for Illinois and Minnesota get tax free offers too.
As you can see, there so many great benefits of using this particular site that seems too good to be true, now it's time to consider some problems that may appear with this DealDash.
1. The site is not available worldwide. Only the residents of the USA are able to use it and purchase bids. And while the shipping is free, it is provided only to the lower forty-eight states not including Hawaii, Alaska, and all other countries. That means the platform's audience is restricted which is both bad and good. On the one hand, that means higher effectiveness of auctions, while on the other hand, not all people around the world can use these possibilities. No matter you fall into the category of the lucky ones who are able to bid on this site or no, this is definitely a problem.
2. There is no automatic tracking of the number of bids spent during the auction, you have to do it yourself. This could be made with the intention of people spending more they planned because it is difficult to calculate bids that are constantly changing. The site does not give you any options on how to follow the rise in the value of bids that are a very unstable currency. It resembles the principle of a casino where you buy the factitious chips to be able to use the services and then lose track of how much you have actually spent.
3. What is more, in case of losing an auction, you simply lose money and bids. Even if you have some more bids left on your account or if there is not enough of them, you still have to purchase additional ones. That traps you in the vicious circle of using the site and buying bids over and over. Although the platform says you can get a refund in the form of gift cards, some of them are completely useless or out of date. They are not the kind of coupons you would buy yourself in real life, more like leftovers from the special offers at unpopular stores and services.
So, is DealDash a scam? Not completely. Like with all sites that give you big promises, there must be something wrong with their perfectly described algorithms. Of course, you can get some great offers here but only after losing a ton of money on things you did not want or need. Never trust bidding sites too much or have heightened expectations towards them. If you are aware of their basic working principles, you will probably win the auctions and get items with a great discount. But if you only dig in the world of penny bid websites, you risk losing a lot of money and not getting anything.
Is DealDash legit regarding all aspects of such platforms? It seems so. It's working basics are simple and comprehensive to a regular user, and many sites give it a fair review. You can get a lot of special offers that will be probably different in amounts of money spent on bids. It is conventional and easy to use, but in the long run, you should not expect too much from DealDash. Our main advice is to check whether the site works in your state, whether it's tax-free or not, and what special offers and features can be used to save some extra as well as whether the shipping is available to your region. This will help you avoid problems in case of really winning a worthy item in the online auction.
DealDash Reviews
Online experts conclude that this particular bidding site sounds really tempting, but it is always worth regarding the reviews of real people concerning DealDash scams or unpleasant situations that have appeared.
Most people agree this side is tried and true because the platform doesn't promise things that it cannot perform and isn't aimed only at earning money using the naivety of regular customers who are not aware of how bidding systems work. Statistics show a positive history of the site's cooperation with the users; it does deliver the items people win at auctions. What is more, it explains the basics of bidding very well and copes with the educational function in this sphere perfectly. It is not fooling its users and allows them to buy and use bids, following the rules written on the platform.
What is more, let's regard it on a real-life example. If you are bidding for a phone that costs $200, it will take an item 200 bids for the price to be raised just for $2, which is not scary, right? That is why only a few DealDash complaints are connected with a heightened price of goods or so. Because if you win the auction, you'll get a tax-free offer with free shipping of the same product you would pay extra for at the store. Most scandals appear when the site does not carry out the shipping or makes up for the lost auction, using useless discount cards.
Although we have stated that this platform does not fall into the complete definition of a scam, here is a story of a real site user that can be considered a DealDash scam.
"I have recently found out about bidding sites, and as I have seen many commercials about DealDash, my choice fell on this one. Since it would be my son's birthday soon, I decided to search for a bike on the site that would make a perfect gift. I ran into the one that spoke to me and started bidding. I first purchased a pack of 220 bids for the sale and paid 34 dollars. I ended up buying more of them later if I remember correctly it was 78 dollars for 500 bids then. I started gradually raising the price and got some free bids. I hoped that I would win a bicycle that could be shipped until my son's birthday. The auction continued and I was just buying more bids, I decided to turn on the auto Bid Buddy overnight to find out in the morning that the auction was lost. I got upset and reached out to the site counselor. A pretty polite woman answered I could get a refund in the form of gift cards for the sum I spent in total and I agreed. Of course, I did not get my coupons and even if I did, it was nothing compared to me spending almost $700 on the item I could buy at the store for $300 dollars. And I have not even received it."