Is 4Ocean a Real Company? A Deep Insight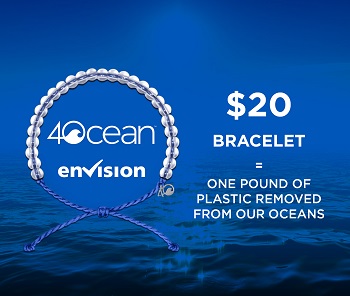 One who wants to save the planet does not have to be a college graduate in environmental protection to influence the current situation. Sometimes, just a good idea, hardness, and support of other people are enough for an amateur idea to develop into something truly unique. This has happened with the 4Ocean project, which appeared by pure accident. But over time, their main idea of the project has crossed the borders of its continent. Thus, their creators of 4Ocean were able to attract admirers and supporters who help them put their idea into practice.
4Ocean's environmental initiative has been around for a little over 2 years. During this time, the company has brought together several thousand like-minded people from around the world who want to save the ocean and its inhabitants from plastic. But is 4Ocean a legit company? Is there any 4Ocean bracelets scam? Is 4Ocean a scam at all?
History of the Project
The history of the project began in 2017 on the island of Bali, where two surfers from Florida arrived – Alex Schulze and Andrew Cooper. They were shocked at the great amount of plastic in the water and at the fact that the locals did not clean it.
"When we got to the beach, we saw that it was completely covered with plastic. Bags, bottles, wrappers... whole mountains of plastic," Schulze recalls in one 4Ocean review.
"I approached a lifeguard to ask why the plastic was not removed from the beach, and I heard the answer, "Guy, it's noon now. We have already cleaned it this morning. It's just a flowing tide," Cooper recalls.
Despite the fact that fishing was very common on the island, fishermen did not collect garbage since no one paid for such work – the demand for seafood was more interesting than environmental problems. Alex and Andrew decided to do something about this and borrowed a net from local fishermen. With its help, they took their first kilogram of plastic garbage out of the ocean. Thus, two surfers came up with the idea of creating the 4Ocean organization to draw people's attention to the problem of plastic pollution in the seas and oceans. A year after the trip to Bali, Alex Schulze and Andrew Cooper founded their company.
Is 4Ocean Legit?
To answer the question, "Is 4Ocean a legitimate organization?" or "Is 4Ocean a nonprofit?" one should get in contact with Better Business Bureau in Boca Raton, FL. where 4Ocean is headquartered. According to them, the company completed the accreditation process in May 2017. Also, 4Ocean has presented documentation to provide evidence of all of its cleanups and the money they spend.
So, one can easily check that this is true and give the affirmative answer to the question, "Is 4Ocean legitimate?" This is a completely legit company that does its work well.
How Does 4Ocean Work?
Now, the 4Ocean team works in several countries and employs more than 150 people around the world. A few thousand more are sponsors and volunteers of the project who regularly take part in the large-scale community cleanups in the ocean.
4Ocean collects garbage in the water and on the coasts and processes it. From recycled materials, they make 4Ocean bracelets, which are then sold in the online store (20$ per bracelet). Bracelet laces are made from 100% recycled plastic bottles, and beads are made from recycled glass. The money received from sales goes to pay for garbage processing, the purchase of cleaning equipment, and other things necessary for cleaning the ocean. Thus, you can make a contribution to the salvation of the World Ocean, being anywhere in the world and simply buying a bracelet! Thus, you encourage the additional collection of plastic trash on coasts and in the ocean. Buying one bracelet allows removing about 0.450 kg of garbage in the ocean. In addition to bracelets, 4Ocean sells bottles for drinks and various clothes.
Also, the team of 4Ocean is actively educating so that as many people as possible know about the negative effects of ocean pollution. For that purpose, they have dedicated every month to help those especially affected by plastic. For example, in March, bracelets were coral to emphasize the need to preserve reefs, May was the month of saving dolphins and whales, and the bracelets were blue, and June was of lime color – they saved sea turtles.
Pacing Technologies
Last year, 4Ocean decided to reach a new level, representing one of the best inventions of 2019. Because of the fact that cleaning the garbage manually with the help of nets takes a lot of time, the team of the company came up with a new invention called "4Ocean mobile skimmer." This is a machine that was specially developed by engineers to deal with great amounts of garbage quickly and efficiently. At the same time, a mobile skimmer is harmless to ocean animals. The invention passed its first test in Florida. The developers promise that they will continue to improve and modify it. This technology definitely deserves special attention, and the ecology of our planet depends on its development!
Achievements
Researchers estimate that every year, about 1-2 billion tons of plastic waste falls into the oceans. The current amount of garbage in the waters of our planet is terrifying at all – this is about 5 trillion units of waste that remain after people. Consequentially, all ocean animals suffer – from zooplankton to birds, fish, and whales. That is why it is so important, firstly, to leave less waste after yourself, and secondly, to clean and recycle the already existing waste.
"You know, many thought we were crazy," Schulze admits. "But we were not afraid to go for it because we were literally captured by this idea. We were not going to give up."
Their determination has borne fruit: last year, Forbes magazine included Alex Schulze and Andrew Cooper on the list of successful social entrepreneurs under 30 years old. And their place on the list is absolutely deserved. Over the past two years, Andrew, Alex, and another 150 like-minded people have taken more than 2 thousand tons of plastic garbage out of the sea.
Also, the company was listed in the Guinness Book of World Records for the most extensive ocean cleanup in history. The creators have managed to hire 633 divers to collect garbage from the ocean bottom at an event organized this June in Deerfield Beach, Florida. Thus, Andrew and Alex managed to overcome the previous mark of 614 divers in the Red Sea in 2015.
Andrew and Alex admit that the thing they do is just a drop in the bucket, but that does not stop them. For example, they have already donated more than $ 300.000 to 65 groups involved in the protection and preservation of the marine environment.
Now, their company is booming, but men hope that one day, things will change. "We would be delighted if, over the next 20, 50, 100 years, we see that our work is no longer necessary," Cooper says. "But our planet is so polluted that I think we have to work for a very long time."
In recent years, people have started increasingly thinking about the problem of environmental pollution. According to scientists, every year at least eight million tons of plastic fall into the oceans, which is about 3% of all waste in the world. They predict that by 2050, oceans and seas will contain more plastic than fish. 4Ocean is a real and completely legitimate company that is trying to do everything in their power to save oceans from pollution. In addition, there is no any 4Ocean bracelet scam. Of course, our planet is still very far from a complete "recovery," but we can accelerate the process only by joining the forces!